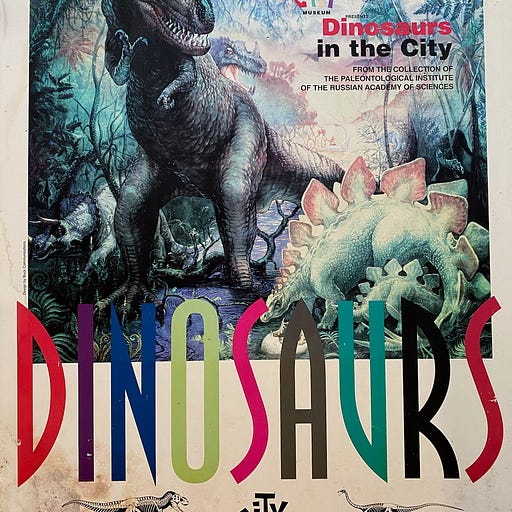 May 25 • 1HR 57M
Unseen STL History Talks - The early days of City Museum
Tim Tucker and Matt Philpott recount how the Cassillys and others created City Museum
Our monthly history talks series, every 3rd Thursday of the month at Spine Indie Bookstore and Cafe, 1976-82 Arsenal St.. 7-9 pm. Contact jackie@jackiedana.com for more info.
In our May Unseen STL History Talks, we welcomed Tim Tucker and Matt Philpott, who spoke at length about the early days of City Museum. Listen now to hear them tell incredible stories about how Bob and Gail Cassilly came up with the idea, how they secured funding, how they obtained the buildings, why they named it City Museum, and how some of the first construction happened. Hear how City Museum is a great example of recycling and adaptive reuse, and seeing the value in things already made!

In this talk, we stroll back to a time when Tim and Matt, along with Spine's very own Mark Pannebecker, helped bring about a crazy dream — one that turned into one of the most beloved attractions in St. Louis.
Facebook live streams
Be sure to follow Spine Indie Bookstore and Cafe's Facebook page for updates and to watch the event live streams each month. Click the button for a direct link to the live stream with Tim and Matt.
Other early City Museum videos
On City Museum's YouTube channel, there are several videos of Max and Maria Cassilly talking about City Museum and showing footage from the early days. The first one, below, is what we showed before the talks on May 18th, and there are a few others.
Unseen STL Talks in June
Our next Unseen STL History talks will take place on June 15h, from 7-9 pm (doors open at 6 pm), at Spine Indie Bookstore and Cafe, 1976-82 Arsenal St.
For June, we will welcome Joe Sonderman and Elizabeth Olwig, who will regale us with tales about the history of Route 66. Stay tuned for more details!
Get more Unseen St. Louis history!
Be sure to subscribe to Unseen St. Louis for the latest information, and follow us on Facebook to learn more about our talks as well as other aspects of St. Louis history.
Subscribing to Unseen St. Louis is free, and all content will always remain free to everyone. However, this work is only possible because of history fans like you. All of the articles here, as well as all of our talks, take a lot of work. If you have the means, a paid subscription will help support my work and make it possible to keep it going. Please consider upgrading to paid if you support my work. Thank you.